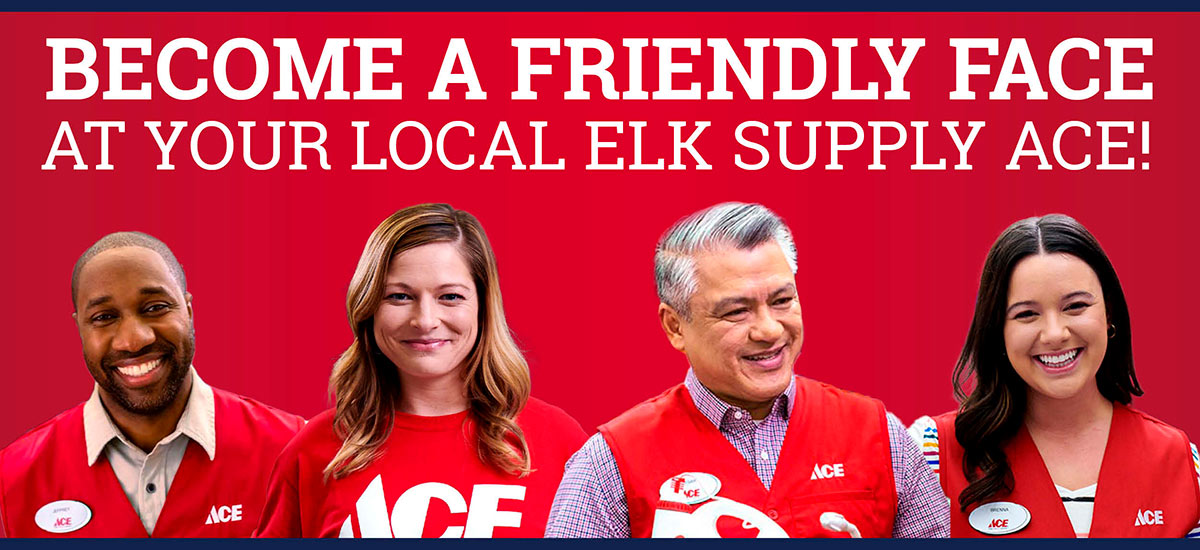 We're always looking for motivated, energetic, and helpful associates for our team. Click the paycom link above and take a look at our job descriptions to see what role you think fits you best or visit your neighborhood Elk Supply Ace store to learn what openings are available.
Our Philosophy
Elk Supply has a long history of being a proud family-run business. The key to its success has been strong leadership and management with well-stocked stores and personal service.
Our Goal
Elk Supply looks forward to continuing to support all of the communities in which we are located for many future years to come.
Benefits
We support and recognize our team for the work they do to help their local community. That's why, whether you are looking for part-time opportunities or a new career, the Elk Supply Company offer benefits that help employees and their family. Below are some of the benefits we offer when you're a part of our team:
Competitive Salary
Employee Incentives & Bonuses
Flexibility Work Schedule
Holiday Pay
Sick Leave/Vacation
Online, Classroom, and Hands on Training
Employee Discount
Career advancement opportunities
Comprehensive Benefits Package*

Medical, Dental & Vision Insurance
HSA / FSA Accounts
Voluntary Benefit Options (Accident, Life Insurance, Long Term/Short Term Disability, etc.)
401K

* Benefits vary for full time & part time associates. We are an Equal Opportunity Employer