Remaining helpful during the Coronavirus spread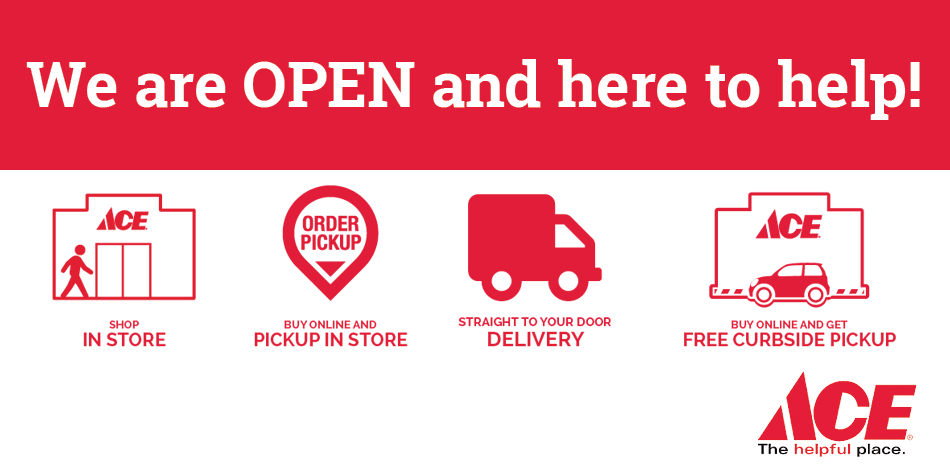 To our neighbors:
The health and safety of our Elk Supply Ace customers and associates is our highest priority. As we continue to actively monitor developments related to Coronavirus in the U.S., we wanted to reach out to share what we're doing to go above and beyond our standard measures to maintain a sanitary environment in our stores and to keep our shelves stocked with what you need.
We are closely following the guidance of local, national and global health authorities including the Centers for Disease Control and Prevention (CDC) and the World Health Organization (WHO), and here are some of the proactive steps we're taking:
We continue to share information with associates on the best ways to keep themselves and their families safe and healthy. To help prevent the spread of the virus, we're encouraging anyone who feels sick to stay home. We have also provided our staff and stores with the necessary sanitizing products to keep our stores a safe environment for all.
In addition to our daily cleaning efforts, we're increasing the frequency and time spent cleaning and sanitizing bathrooms, door handles, shopping carts and baskets, checkout counters, computers, pin pads and other high-touch areas. Our associates are also conducting handwashing at more frequent intervals as well as using hand sanitizer on a regular basis.
Out of an abundance of caution, we have decided to suspend self-serving areas in the store such as popcorn & coffee, as well as suspend in-store events until further notice. We do this regretfully knowing that it affects the community- especially our local organizations who participate in our clearance sale cookouts - but feel it is prudent to follow the recommendation of health professionals and actions of fellow retailers.
Our team is in close contact with suppliers and is working diligently to try to keep high demand products in stock like hand soaps, cleaning and disinfectant products, hand sanitizers, respirator masks, and everything else you need to preserve your home and protect your family. In some cases, these products are in very limited supply; however, we're continuing to research every possible source and move quickly to re-stock our shelves and make them available to you.
We realize minimizing contact can also help prevent the spread of illness, and we'll continue to offer several ways for you to get everything you need. All of our Elk Supply Ace stores participate in Buy Online, Pickup in-store and Curbside Pickup when you shop online at www.acehardware.com. We want to make it as convenient as possible for you to get the products you need, when you need them.
Your local Ace is here to serve you. Our sole purpose is simple - we exist to help others and we are committed to supporting our community in this time of need.
Stay healthy, and thank you for your continued business and support.
-Elk Supply Company