Elk City Ace Home Center Relocation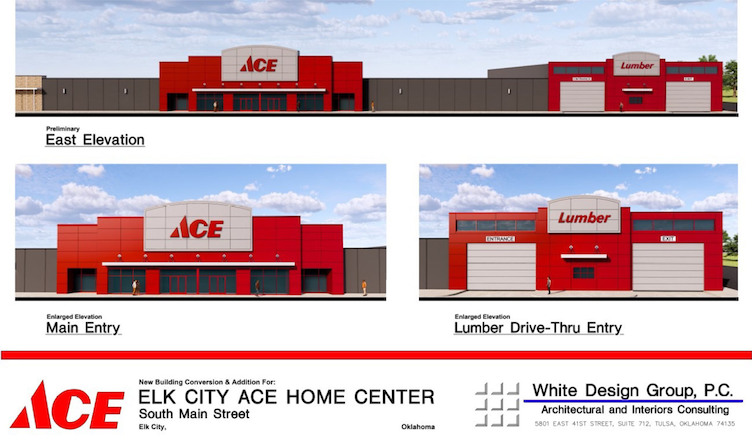 Elk Supply Company is pleased to announce the relocation of its existing Elk City ACE Home Center to 2001 S. Main Street. The all-new indoor Home Center containing 90,000 square feet will include a complete repurposing of the Terry's Furniture building and the addition of a drive-thru building materials/lumberyard. The new facility containing 90,000 square feet will include a retail hardware store of 40,000 square feet and a building materials/lumberyard of 50,000 square feet.
The project's cost will exceed $5 million and will be fully funded by Elk Supply Company and without any public assistance. Construction is slated to begin January 1, 2023. The new Elk City ACE Home Center will employee over 40 associates.
The Home Center will include a free-standing Lawn and Garden Center at the previous location of Long John Silver's. This Lawn and Garden Center will provide an extensive plant material offering inclusive of Ace traditional lawn and garden service products.
"We are very excited to open another one of our indoor concept stores in Elk City. The store will offer a complete line of lumber and building materials, electrical, plumbing, paint, millwork, hardware and tools as well as lawn and garden products," said George Browning, President of Elk Supply Co. "We plan to offer our patrons in Elk City a convenient and modern alternative for all of their home improvement needs."
"We are very proud to have always hired friendly people from the community. We are the hometown hardware and lumber store. My brother, Jim Bob, and I are humbled by our rich family history of three generations within the lumber and hardware industry throughout western Oklahoma," said Browning.
Elk Supply Company currently consists of 11 ACE Home Centers located in Ada, Altus, Clinton, Cordell, Elk City, Mangum, Paul's Valley, Sayre, Weatherford and Woodward. The Company employs 250 associates.